KNIGHTS OF MALTA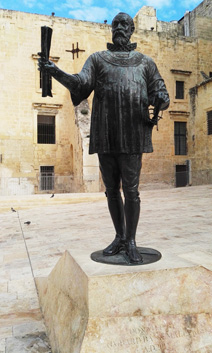 Knights of MALTA This is a fascinating part of the Maltese history.
The Order of the Knights of Saint John of Jerusalem also known as Order of Saint John, Order of Hospitallers, Knights Hospitaller, and the Hospitallers, were among the most famous of the Roman Catholic military orders during the Middle Ages. The defended Malta against the advance of the Ottoman empire(The Turks). There are some incredible stories about them and the Armour and weapons they used were amazing.
Take a look at how to become a knight and the history
of the Knights of Malta. Also take a look at the Video about
the Seige of Malta - one of the greatest stories.
©Photographer Geoffrey Brown Jean Parisot de la Valette.

HISTORY
The history of the Maltese Islands reads like 'who's who' of military and economic powers holding sway over the Mediterranean through the ages, going back thousands of years, beyond recorded history.

Video History of Malta with revolving background. This is 6m video that gives a potted history of Malta - with a revolving background from the Upper Barrakka Gardens - rather humorous - good over view.